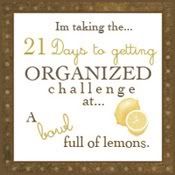 Her er muligheten min til å få huset mitt i orden - jeg linker opp. I slutten av januar er det dobbel 6-årsdag, det hadde i grunnen vært greit med et ryddig og rent hus til da.
Jeg tror jeg stod sist i køen da Gud delte ut ryddighetsgenet.
This is my opportunity to get a tidy and clean house - I'm participating. We're celebrationg a double 6 year birthday at the end of January - would be nice to have a tidy and clean house by then.
I think I was last in line when God handed out the tidy gene.